Doctors & Staff
Meet the experienced and friendly doctors and staff who make Family Eye Med the leading provider of vision care products and services in Lebanon.
John M. Pino, O.D., Ph.D.
Dr. John Pino has been providing primary eye care since 1991 in Middle Tennessee. As clinical director of one of the largest Optometric practices in Tennessee, Dr. Pino focuses on providing the latest technology to his patients. He is a member of both the American Optometric Association and the Tennessee Optometric Association. Dr. Pino is also a fellow of the International Academy of Low Vision Specialists, an elite group of only 31 professionals worldwide. He is passionate about helping people regain their ability to perform certain visual tasks like driving, reading, or watching television.
Dr. Pino also holds a Ph.D. in the field of nutrition. He places great emphasis on the importance of nutrition with his patients. As a former cancer survivor, he is passionate about empowering people to live healthier and happier lives. Dr. Pino is also a Professional Health Coach, and he enjoys lecturing and doing research in the field of nutrition.
Dr. Pino, a native of the great state of Tennessee, resides in Lebanon, Tennessee, where he practices. He has been happily married for over 35 years and has two sons. Dr. Pino provides Low Vision Care throughout the state of Tennessee.
---
Jessica A. Ditto, O.D.
Jessica has been with Family Eye Med since 2015.  Raised in Mississippi, Dr. Ditto attended Ole Miss for her undergraduate degree and then earned her doctorate at Southern College of Optometry in Memphis.  In her spare time, she enjoys attending all of the local festivities that Nashville has to offer.
---
Jim Gillispie, O.D.
Jim is the founder and owner of Gillispie Eye Care in Hermitage, Tennessee.  Originally from West Virginia, Dr. Gillispie earned his doctorate from Southern College of Optometry in Memphis and began practicing in 1990.  After 10 years with a group practice in the Nashville area, he opened Gillispie Eye Care in 2002 as a medically oriented optometry practice.  Dr. Gillispie and Dr. Pino began working together in January 2016.  When he is not in the office, Dr. Gillispie enjoys spending time with his wife and two children.
---
Kaley Stinnett, O.D.
Dr. Kaley Stinnett has been with Family Eye Med since 2020. Kaley grew up in Hendersonville, TN and from a young age always knew she wanted to be an eye doctor. She received her Bachelor of Science from The University of Tennessee at Chattanooga and went on to earn her Doctorate from the Souther College of Optometry. Kaley examines patients of all ages, and especially loves working with children. In her spare time, Kaley enjoys trying new restaurants and playing with her dogs, Leo and George.
---
Allyson Cort: Operations Manager – September 2002
---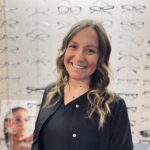 Paula Owens: Office Manager – September 2019
---
Julie Alexander: Front Desk – October 2008
---
Rose Mary Bean: Check out – May 2016
---
Amber Perez: Tech – March 2017
---
Mylissa Carnes: Contacts – December 2018
---
Teresa Doss: Optical – May 2020
---
Samantha Berry: Optical – May 2021
---
Brandie Duke: Tech – June 2021
---
Wendy Sorrell: Optical – June 2021
---
Veda McIntrye: Tech – January 2022